Village Voice, 3/15/88

Pat O'Connor's A Month in the Country is a deceptive though not devious kind of movie experience in which almost nothing happens dramatically while a lot goes on emotionally. One is moved, occasionally even shaken to the roots of one's being, but one can never escape the feeling of being becalmed in an interlude, an intermezzo, an interruption… As it is, A Month in the Country is perhaps the only film I have ever seen to concentrate almost entirely on the process of healing, and the capacity of one human being to allow the wounds of another to repair themselves over time, in the natural course of events. In the end, the Firth character has lost his twitch and stammer, and gained an invaluable insight into his own soul. And some of us in the audience have been instructed in the ultimate niceties of compassion.

Films in Review, 8-9/88

A month in the country can mean many things to many people depending on time and place. It can be merely a period of rest that enables us to sort things out - or it can be a period of great decision, a fresh view that time and distance from our normal lives suggest. It is a frequently used device in film and literature which doesn't necessarily tarnish with use - and doesn't at all in this especially fine film… The film is beautifully paced and accurate for its time. Director Pat O'Connor captures the attitudes and feelings of the repressive era that D. H. Lawrence and James Joyce were doing their best to discredit. A Month in the Country is very British it its poetic restraint and superb acting. It is also particularly thoughtful in its suggestion that it is sometimes necessary to accept the inevitable frustration of living at any time or any place.

Los Angeles Times, 3/25/88

This subtle, intelligent British period drama is set in the Yorkshire countryside in 1919, and it follows a pivotal month in the lives of two returning World War I soldiers - both of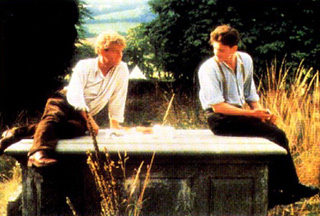 whom have been hired, in different capacities, to recapture the past… The inexpressible, in a way, is what the film is all about. There are buried meanings everywhere, and, like the mural, they can be uncovered only through painstaking care and sacrifice. Even then, the revelation may be opaque to many… The movie is intelligent, complex, many layered. Yet it is also a bit stiff and enigmatic. To fully enjoy it, you may have to have a taste for understatement, for this special portrayal of tightly held passion, this evocation of the crawly tensions and black fears that exist, unexpressed, just beneath the surface.
Monthly Film Bulletin, 12/87
One of the attractions of J.L. Carr's novel (published in 1980, a surprisingly recent Booker prize contender) is its economy: brief and delicate, it wastes no effort on overstatement… Playwright Simon Gray's script proves as spare and precise as its source, and the novel's intricate pattern of motives and memories is scrupulously respected. Like the book, the film is a series of inter-related disclosures, of secrets identified and understood if not altogether undisturbed: the admonitory painting, the fate of its creator, the dislocated life of its restorer, the melancholy disgrace of his fellow historian - everything has a place in the jigsaw. The unveiling process, shared by Birkin and Moon to such a degree that we might regard them as two halves of the same war-scarred personality, leads like a form of psychoanalysis to the central character's rehabilitation and placid return to the outside world from his rustic oasis.
Washington Post, 3/18/88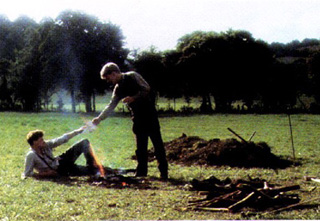 Nothing so tranquil as A Month in the Country, in which sorrows are laid to rest like the souls in a churchyard… The search for truth is both high and low; the digging both internal and external; the revelations as plentiful as the enigmas… It's all rather Arthurian, with its chivalric hero on his spiritual quest, the atmosphere suffused, seeming to dance with one and future truths.