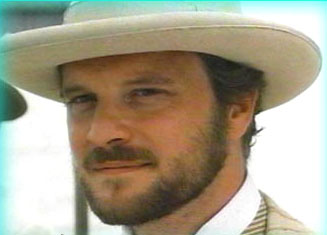 Starring Colin Firth As Charles Gould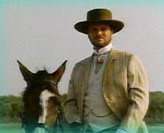 "I've set them down, Aristocracy and People, men and women, Latin and Anglo-Saxon, bandit and politician . . . with the heat and clash of conflicting emotions."
–Joseph Conrad about his novel Nostromo


Title Nostromo
Year: 1997
Running time: Approximately 6 hours
Rated: PG
Colin's character:Charles Gould
Starring: Claudio Amendola (Nostromo), Albert Finney (Doctor Monygham), Serena Scott-Thomas (Emilia Gould), Fernando Hilbeck (Don Jose Avellanos), Ruth Gabriel (Antonia Avellanos), Brian Dennehy (Joshua C. Holroyd), Lothaire Bluteau (Martin Decoud), Arnold Foa' (Giorgio Viola), Claudia Cardinale (Teresa Viola), Stefania Montorsi (Linda Viola), Romina Mondello (Giselle Viola), Joaquim De Almeida (Colonel Sotillo), Paul Brooke (Captain Mitchell), Robert Escobar (Pedro Montero), Xavier Burbano (Ramirez), Ismael E. Carlo (General Barrios), Emiliano Diez (Major Don Pepe), Nelson E. Guerrero (Father Corbelan), Ubaldo Henriques (President Riberia), Allan Corduner (Hirsch), Mario E. Sanches (Hernandez)
Director: Alastair Reid
Producer: Fernando Ghia, Executive Producer; Michael Wearing, Producer
Screenplay: John Hale
Music: Ennio Morricone
Released by Nostromo is a PIXIT production for BBC Television and WGBH Boston in association with RAI Italy and TVE Spain.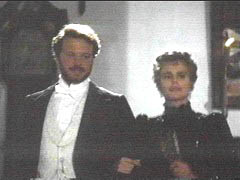 Nostromo is based on an epic novel by Joseph Conrad published in 1904. It is set in a fictional South American country called Costaguana. Colin Firth plays Charles Gould, an aristocratic Englishman whose one goal is to reinstate the abandoned San Tome silver mine. The mine had been started by his father, and Charles himself had actually been born in Costaguana. Ten years earlier Charles's father had been murdered by a dictator who bitterly hated "foreigners" and the silver mine. Now, back to this country, Charles brings a lovely, sensitive wife, Emilia (Serena Scott Thomas), whom he neglects as he becomes more and more obsessed with the silver mine.
When the unstable government is thrown into revolution, Charles entrusts a large cache of silver to Nostromo (Claudio Amendola). Nostromo, a stevedore of Italian origin, is known to the natives as resourceful and incorruptible, and he values most his reputation in the eyes of the Costaguanans. When he appropriates some silver entrusted to him, he loses his integrity and peace of mind. As his life ends tragically, it is Emilia who, although suspecting his secret, allows his reputation to stay intact.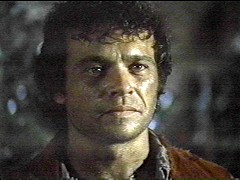 The film is filled with a panoply of characters and several story lines, and the action takes places against the corrupt, unstable politics of a Third World country into which foreign capitalistic interests are expanding. All the characters in Nostromo live by some ideal or illusion. Emilia Gould's treasures are her care and empathy for others. Dr. Monygham (Albert Finney) is a drunken doctor who has never forgiven himself for breaking under torture, but he finds himself responding to Emilia's beauty. The intellectual Martin Decoud (Lothaire Bluteau), whose love for Antonia (Ruth Gabriel) is not strong enough to outlive isolation, dies rejected. Holroyd (Brian Dennehy), whom Charles must rely on for financial backing, represents foreign intervention and exploitation. Giorgio Viola (Arnold Foa'), an old fighter for freedom with Garibaldi, becomes unwittingly responsible for the tragic end.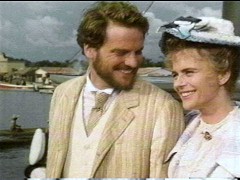 Colin's garments, which he called "stiff frocks," lend to the characterization of Charles Gould's cold dignity and aloofness. Gould is a character that changes during the course of the film. He becomes more and more obsessed with the silver and success, and he goes from being an eager young capitalist to a man of power who plays the political game and who has rejected the affective side of life. As the film progresses, in Colin's portrayal, the open, smiling face of Gould on the boat becomes masklike. Watch for the last scene with Colin, facing full front and looking enigmatic, listening to the Star-Spangled Banner.
While Colin's role is pivotal in setting off the events that frame the film, his character is secondary to Nostromo's and to all the political events that form the backdrop of both the novel and the film. Colin's screen time is not insignificant and, it is spread throughout the film—from Charles successfully starting the mine in the first episode, to facing problems and dangers with the new regime as it wants to take over the mine in the second and third episodes. While the role does end up with Charles as inexpressive, Colin gets to show quite a few emotions along the way—including fear (in the jail and garroting scenes) and anger (in the last dinner table scene). (Also watch, in particular, for the fine interplay in his scenes with Albert Finney.)
Colin gets another wet shirt scene (this is the film he did right after "Pride and Prejudice" with its famous wet shirt scene at Pemberley). He is standing in the rain by his father's grave at night. The water suggests the new phase of life that Charles is beginning as he vows to finish his father's work. This scene precedes a love-making scene with his wife in the mine itself. However, other than this, for Gould, water seems to be a way to cleanse himself from distasteful confrontation. When Mr. Holroyd grabs him by the shoulders, Charles stands erect with no overture and even flinches. Afterwards, he washes his hands as if repelled by the touch. Then too when he returns to Casa Gould at the height of the revolution to take Emilia and others to safety and is refused, he remarks, "Well in that case, the bath."
In a less serious vein, this is the only film in which Colin sports a full beard (other than the obviously fake one in a few scenes in "Hostages"). So, it's a new look—and a more mature Colin. And Colin is booted and in riding togs in many riding scenes as he goes back and forth to the mine. Not quite the breeches of early 19th century—but still a period role.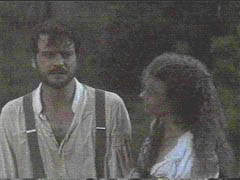 Personal Facts:
Colin met Livia Giuggioli, an Italian student taking time off from her PhD studies, while filming Nostromo in Colombia. She was acting as an assistant to the producer. They married on June 21, 1997. Comment by executive producer Michael Wearing: "She (Livia) was working as an assistant to Producer, Fernando Ghia, and is remembered as a 'lovely girl and extremely bright.' Their relationship flowered slowly and was delightful to see."
Colin had an assistant who provided him with water so that he would not become dehydrated during the filming in the intense heat.
Other Very Important People:
Novelist Gabriel Garcia Marquez, who lives in Colombia, visited the set and was very complimentary about the production.
Ennio Morricone has composed the scores of many famous films, including some early Clint Eastwood spaghetti westerns and films by Giuseppe Tornatore ("Cinema Paradiso") and Bernardo Bertolucci; he was nominated for Academy Awards for his scores for "The Untouchables" and "Bugsy," among others. The score of Nostromo is one of its most effective aspects.
The Novel:
The novel "Nostromo" by Joseph Conrad was ranked #47 in a list of English language novels by the editorial board of the Modern Library, a division of Random House, put out in July 1998.
In the novel, Conrad pictures Emilia in white—the Madonna image. Also, in the novel "unlike the film," the Goulds leave the country and spend time in California.
Extra Added Trivia:
A companion documentary called "The Making of Nostromo" was shown on Italian TV. In it, Colin clowns around, joking that he is going to take the opportunity to smile in front of the camera since he is not allowed to do so in his performance.
In the documentary, Ghia, the producer, mentions that the old center of Cartagena, Colombia, was blocked off for three weeks for filming.


On Charles:
"My character has an idealistic faith in the power of industry to civilize the world. He revives a defunct silver mine that his father has started. But as he succeeds with the mine, his agenda starts to divert. Eventually he's willing to blow it up, and himself, too, rather than turn it over to the wrong people. He sacrifices his wife emotionally and everyone else." "I am attached to playing neurotics, but I must resist the impulse to sympathize with these creatures. This one in 'Nostromo' is tricky. He's not as simple as the old story of the idealist becoming a tyrant. I don't think I understood him or his obsession while I was playing him. Yet now that I've seen it, I'm as pleased with it as with anything I've done." - Bart Mills interview, Chicago Tribune, January 2, 1997.
On the filming:
"I've given up trying not to say it was horrible. Wearing thick, scratchy Edwardian costumes in that heat was torture. Women fainted right and left. Far worse was the impropriety of filming in the middle of a ghastly shanty town. You're eating your tasty catered lunch while groups of famished children wait by garbage bins for what you scrape in. Having to flaunt our differences in that way was obscene."– Bart Mills interview, Chicago Tribune, January 2, 1997.
On the role and on choosing it:
"I was almost resentful of how difficult it was to get through it [the novel]. " Why play it? "It was curiosity. I felt that there was an awful lot more to Gould than met the eye. I found myself in the strange position of doubting what Conrad said about him—that the character had no sense of irony—and I wondered whether that was a foreigner's perspective of an Englishman. It would be quite possible for a man like Gould to have a very strong sense of irony and for it to be invisible to somebody from Poland. ....On a less cerebral level, he was attracted by the horse-riding, the explosions and the steamship—"a boy's own instinct to go out on the big adventure, a childhood sense of why I wanted to be an actor." – Jasper Rees interview, Sunday Independent, January 19, 1997.
More on the character and acting the character:
Despite his initial passion for his wife, Gould proves willing to sacrifice everything, even his marriage, to his obsession over the mine. "He becomes more and closed as the story progresses," Firth says. "It's the reverse of Mr. Darcy's process, really. "For someone who describes himself as a method actor, he is refreshingly down to earth when talking about his craft. "I do an awful lot of work on what's going on inside the character," he says. "There's a tremendous amount to suggest beyond words. The unhealthy nature of Charles Gould's obsession is very difficult to understand. The book is virtually unreadable; I only managed to finish it through sheer stubbornness and Conrad certainly doesn't define his characters in a way that's easy for us to comprehend." –Saturday Telegraph, January 11, 1997.
Even more on the character, acting the character--and garroting:
It becomes very clear what happens to Charles Gould in 'Nostromo' – he becomes a man who loses his soul. . . .Still Conrad never allows his characters to be simple. Gould wants the silver to civilize what is regarded as an uncivilized country. He wants all those turn-of-century ideals–beauty, order, truth, to come from the silver. He sticks with that even when it's quite clear that he's turning into a monster....In playing Gould I drew on that blankness, the inexpressiveness. I think it's essential to the man. And actually I was given a lot more to say than Gould has in Conrad's book. . . Conrad has no sense of humor, but our production does, a little. I even got to smile.

. . . I was thrown by a horse -- a very untrained horse -- for the first time in my life, Firth said. "That was an undignified experience because I pride myself on being quite good . . ."

And there's a scene where I'm being garroted . . There's a metal collar to strangle me around my neck and someone yelled an instruction which I didn't understand. My hands are tied behind my back and I don't speak Spanish to tell them I'm REALLY being strangled and to stop." –Orange Country Register, January 2, 1997.


The cast is world-class. Amendola is excellent, and Firth, who was so persuasive in last season's "Pride and Prejudice" miniseries, once more proves he's one of Britain's top leading men.--Knight-Ridder Newspapers, January 3, 1997.
Firth, the superb Darcy of A&E's P&P, excels at playing men you're drawn to in spite of their obvious faults. His physical self-assurance is a match for Amendola's.--Joanne Weintraub Milwaukee Journal Sentinel January 1997.


FROM THE PRODUCTION
From Mobil Masterpiece Theatre Program Description of Nostromo...
One of the greatest novels of our time comes to Mobil Masterpiece Theatre in a lavish international production capturing the love, honor, obsession and greed of a mythical South American country in the 1890s in Joseph Conrad's Nostromo. Shot entirely on location in Cartegena de Indias, Colombia.

Nostromo stars Colin Firth, Albert Finney and Claudia Cardinale, along with an international cast featuring Italian film star Claudio Amendola in the title role.In the imaginary republic of Costaguana, where the Andes plunge down to a tropical paradise, there are fortunes to be made. Englishman Charles Gould (Colin Firth) has arrived with his wife (Serena Scott Thomas) to take over the family's closed silver mine, which may yet yield great wealth.Gould's obsession to make the mine productive works on the people of Costaguana like a dangerous drug, energizing them and plunging them into a morass of corruption, betrayal and revolution as the shining bullion mounts up.

Through out it all, there is only one man who is reliable beyond question: Nostromo, the proud leader of the local dockworkers, whose name means "our man." To him falls the duty of saving the mine and its treasure when civil war engulfs the country.

Nostromo is populated with extraordinary characters: Nostromo himself, keeper of many secrets; Charles Gould, unwitting slave to ambition; Emilia Gould, caught in a collapsing romance; Dr. Monygham (Albert Finney), aging romantic with a knack for survival; Martin Decoud (Lothaire Bluteau), intellectual gunrunner and dandy; Antonia Avellanos (Ruth Gabriel), enchantress and patriot; Joshua Holroyd (Brian Dennehy), financier from America who idolizes greed; and dozens more.

Critics have hailed the original novel, published in 1904, as indisputably one of the greatest of the 20th century – a South American War and Peace that probes the actions, emotions, and destinies of people who are caught in epic forces.
An Interview with Fernando Ghia from Mobil Masterpiece Theatre Program Description:
Almost 30 years ago, British screenwriter Robert Bolt recommended an acclaimed but little-read masterpiece to his friend, Italian producer Fernando Ghia. "With great difficulty," Ghia admits, he struggled through Nostromo. Then he read it again. And again. Joseph Conrad's story took possession of him like the lust for silver that is at the heart of the book. Bolt, who had won Oscars as scriptwriter for "Lawrence of Arabia" and "Doctor Zhivago," suggested turning the novel into a feature film. Intrigued, Ghia insisted that two hours was hardly enough to do just to the tangled tale of love, revolution and greed set in South America in the 1890s.

Ghia and Bolt did collaborate on another South American epic, "The Mission," starring Robert De Niro, released in 1986. But their joint dream of adapting Nostromo suffered an amicable separation as Bolt pursued the feature film route with director David Lean, a prospect that ended with Lean's death in 1991. Meanwhile, Ghia sought international backing for a six-hour television adaptation that would be true to Conrad's in comparable storytelling gifts, an effort that has at last borne exotic and wonderful fruit in Joseph Conrad's Nostromo.

Ghia talked about the epic effort required to bring Nostromo to television. Click here for the interview.
FILM REVIEWS
Knight-Ridder Newspapers, January 3, 1997
Joseph Conrad's "Nostromo," an epic about colonialism, greed, revolution and honor, has been turned into a lavish six-hour miniseries for "Masterpiece Theatre."Like Conrad's novel, PBS's film is complex and forbidding at times, but rewarding if you stick with it for its soul-stirring finale. Even if you have trouble keeping its large cast of characters sorted out and its plot development clear, you will find "Nostromo" a seductive journey because of its spectacular settings. It was filmed on location in Colombia, and its haunting music is by the great Italian film composer Ennio Morricone ("Once Upon a Time in the West," "Days of Heaven"). This is a rare undertaking for television and feels at all times more like a feature film than a TV miniseries. It's the sort of grand-scale drama that a David Lean ("Lawrence of Arabia") might have made. In fact, Lean was about to film his own version of "Nostromo," collaborating again with screenwriter Robert Bolt, when Lean died in 1991. . . .The cast is world-class. Amendola is excellent, and Firth, who was so persuasive in last season's "Pride and Prejudice" miniseries, once more proves he's one of Britain's top leading men. Thomas, whose Emilia is the most honorable person in the six hours, is arresting, and Finney pulls out some surprises as the drunken doctor.
Joanne Weintraub, Milwaukee Journal Sentinel, January, 1997
NOSTROMO: glitzy but semi-coherent . . . What you really want to know is: Is this three-part "Masterpiece Theatre" worth watching? To which the answer is a resounding "Sort of." "Nostromo" has fine acting, a gorgeous Ennio Morricone score and the kind of epic imagination rarely seen in a miniseries. Its themes-the perils of patriotism, the barbarity of colonialism, the snare of greed- remain as timely today as they were in 1904, when Conrad published the novel on which the series is based. But somewhere among all the fine ships and the glittering silver, the sleek horses and sweltering rain forests, the thread of the story keeps getting lost. "Nostromo" is hard to follow not simply because it's so crowded with detail and incident but because writer John Hale and director Alastair Reid fail to weave their rich material into a coherent, compelling whole. . . If Gould represents worldy ambition, Nostromo (Claudio Amendola) is courage and honor. An Italian emigre of almost mythic charisma, Nostromo eventually becomes all that stands between Costaguana and complete chaos.
New York Times, January 3, 1997
Conrad's view of the world, from businessmen to priests, from politicians to idealistic reformers, is relentlessly bleak. . . . But the story is monumentally unwieldy, loaded with major characters and overheated incidents and given to sudden and often implausible plot twists. Voice-over narration is frequently required to give a semblance of coherence to the proceedings. Exasperation would be understandable, but patience will find rewards. Conrad was uncannily prescient about issues that have proved even more vexing for today's world, not least the tensions between third world and modern societies, and the eagerness of increasingly troubled countries to make foreigners their scapegoats. "Nostromo" is difficult and, for the most part, troubling. That much alone makes it an unusual television achievement.
When the Film Appeared on TV in Britain
NOSTROMO, the BBC's £9 million adaptation of the Joseph Conrad novel, shot in the sweltering Colombian jungle with 15,000 extras, is drawing fewer viewers than the corporation's low-budget mid-afternoon cookery and chat shows. The first part of the series, which stars Colin Firth and Albert Finney, managed an overnight viewing figure of only 2.8 million on Saturday. Nostromo has failed to live up to its spectacular billing, despite its huge budget and a sustained publicity campaign. . . The huge production, co-financed with Italian TV companies, was beset by problems during its making. There were threatened demonstrations from underpaid extras and mishaps which included a landing craft running aground and sub-contractors razing precious rainforest to hide cables. The director, Alastair Reid, collapsed with exhaustion and filming had to be completed while he was in hospital. The low figures will do nothing to silence criticism of BBC drama, which has been struggling without a head of overall drama. -- Electronic Telegraph February 6, 1997


Showing Emilia the Casa Gould where she sees a picture of Charles (Colin character's ) as a boy: Emilia: "You were a solemn little boy." Charles replies: "That was England. I hated it."
In the mine, Charles explaining his feelings for his cause to Emilia—restoring the mine: "It's not worship. You can choose to worship. It's something else. It's like the fairy tales when we were young. A spell is cast over you."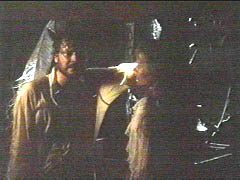 Again, Charles explaining himself to Emilia: "I will go to any length to succeed in this country."
Charles, again to Emilia, when their house is surrounded by forces of his political enemy: "I'm not mad. I know it could appear that way. I feel a terrible remorse. I bitterly regret what I have exposed you to."
Charles, angrily to Dr. Monygham, now head of medicine in Costaguana, who wants to go and supervise medical aid to the anarchists: "My dear fellow, you don't keep a dog and bark yourself!"
And one last word, but this one from Emilia, talking to Giselle about Nostromo, but really commenting on her relationship with Charles: "Console yourself. I too have been loved. But soon he would have forgotten you and gone back to his treasure."


Charles Brings Emilia to Casa Gould
The atmosphere of this scene is set when Charles and Emilia Gould stroll through the lush green foliage of the garden of Casa Gould. Colin walks slowly (not the patented Firth striding gait), contentedly smiling. He has brought his bride to his home he has longed for many years. His smile is proud and charming; hers one of joy and love. As they continue through the spacious home, Colin is always a step ahead of Emilia--he is confident and in charge. The large hat Colin wears is one of the most becoming of any he wears in films (note P & P and The Advocate). Framing his forehead, it emphasizes those deep expressive eyes, a Firth trademark. The hat is off when he and Emilia reach the bedroom. The voiceover about the picture of Charles as a boy continues the gentleness of the scene. As they reach the curtained bed, what has been anticipated comes to fruition. In truly Colin style, he begins with the kiss, pulling his wife to him and finally the encircling of his arms, and the closeness of the two lovers. (As in older movies, I wished for the move of the camera to a window with curtains blowing in the wind).Emilia awakens contentedly to find Charles gone. (The linen of the bed is exquisite.) Charles, already on his way to the mine, surveys the land with a look, "This is my destiny."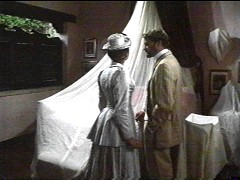 Drinking and Dinner Scene after the Defeat of the Revolutionists
Here in the postrevolution scene, Gould has won; the table is set with rich and sumptuous food; loud talking and boasting are occurring and wine and liquor are flowing. Colin's appearance although somewhat disheveled and weary is convivial and not that of a man who hours before was about to lose his life. He joins and adds to the inane conversation. Colin slurs his words. He plays the part well, a bit drunken and foolish looking at times. He is oblivious of his wife--Emilia appears out of place and pained. When another offers a toast to his wife, Charles repeats twice, "My dear wife. My dear wife," with that Colin grin. When Nostromo appears, he condescendingly offers him a reward. But when Emilia follows Nostromo out, the look on Colin's face changes. He is sober. In spite of his other actions toward Emilia, she is his dear wife. He follows Nostromo and Emilia and thanks the Italian again. He has seen Nostromo kiss his wife's hand. He then lets the audience know "I do not approve but I am still in charge." There is one telling sideways glance to express this.

VIEWING GUIDE: SCENES TO WATCH FOR

The film is filled with many characters and subplots. Here are some scenes and relationships worth noting and waiting for:
Arrival of Charles and Emilia Gould by boat to Sulaco.
Bedroom scene at Casa Gould upon their arrival in Costaguana. Charles shows her their bedroom: "I was born in this room." (see above, Favorite Scenes).
Dr. Monygham's body language, particularly when he meets and admires the beautiful Emilia.
Poetry of Colin's words in the love scene at the mine (where he talks about a spell being cast over him—in relation to the silver!)
Charles riding through the streets accompanying the first shipment of silver from the mine.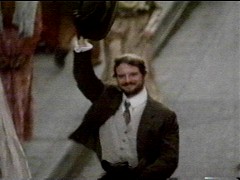 Nostromo's interaction with Teresa (Claudia Cardinale) as his surrogate mother.
Nostromo and Decoud in the rain and pitch black sea carrying the silver to safety.
Decoud in isolation and turmoil on the island.
Charles negotiating with the bandit Hernandez (although they seem from opposite worlds, they find that both their lives have been profoundly affected by the political events in Costaguana and they are equally shrewd at negotiating).
Charles informing the drunk Dr. Monygham that they are surrounded by the Monteros' forces and engaging in one upsmanship.
Emilia's visit to Charles when he is imprisoned.
Rescue scene to the gallows (seems right from the old westerns) (and watch for what happens to Colin's boots)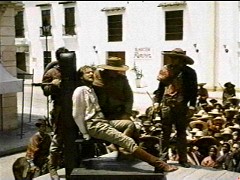 Celebration at Casa Gould after the Monteros are defeated.
Emilia's offer to Nostromo of a boat for all his efforts in rescuing them.
The telephone scene with Charles and Emilia (Colin speaks Spanish!).
The visual image at the end, contrasting the native torches with the newly installed electricity at the mine.
And the very last scene of Colin, looking face front to the camera and enigmatic.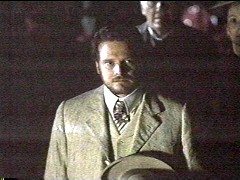 | | |
| --- | --- |
| ***** | Superb/breathtaking/heartstopping/etc |
| **** | Excellent |
| *** | Very pleasing |
| ** | Still lovely, but . . . |
| * | Bad hair day |
Personal Ratings:
| | |
| --- | --- |
| ***** | Colin's looks |
| ***** | Colin's acting ability |
| **** | The film in general |
| **** | Ranking in the films of Colin Firth |
| ***** | Watchability & rewind factor |
To come: Friends of Firth "Nostromo" ratings




This page written by Mid, edited by Janet, designed by Murph, assembled by Sharon
Special thanks to Kathryn for gathering some of the material used on this page. It is part of a Firthland project on the films of Colin Firth.
Snappy photos taken from video by Sharon