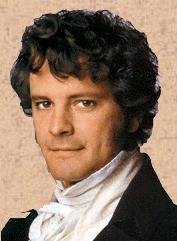 In the beginning,
there was Pride & Prejudice,
the 1995 BBC/A&E version.
It aired first in the land of the English
and other European countries,
then crossed the ocean to be seen by North Americans
and later, Australians and Japanese.
And Firth spoke,
and while he spoke seldom in this version,
his melifluous tones and dark, penetrating looks
struck deep into the
hearts and souls of women
all 'round the world.
And these women went to their e-mail
and to the internet to seek out all they
could find about this man they called Firth.
A notable few of these women had actually
noticed him before,
frolicing in medieval France,
then frolicing with a French woman
in 18th century France,
killing Peter O'Toole, dying, and then frolicing
with a dead French woman (in a 20th century purgatory),
being a socialist in 1930s England
and frolicing with no one
(while pretending not to like cricket),
restoring Catholic wall murals in 1919 Yorkshire
while wearing a mustache
and wishing he could frolic with the
vicar's un-French wife(but not).
But most had not noticed this brown haired,
brown eyed, brown-mole-on-his-neck young man who has
great thighs gained by significant equestrian experience
(as we were soon to see)!
It was not until Darcy appeared, with his dark
curls and wet shirt, that hundreds of women
found each other during their search for the true
meaning of Firth
(and the real color of his hair and eyes).
These women shared many things in common -
brilliance, introspection, keen
observance, wit, beauty,
and most importantly,
a lusty passion for Colin
that has lasted through many weeks and
knows no bounds.
And then came unto us Robin,
the Beautiful Musician from Canada,
who joined these women together
into a Colin-y named
by Rai. Robin became our Queen
and Rai her jester and
the rest her loyal subjects.
To ensure that the important work
of the Colin-y was accomplished, Robin
appointed The Royal Census Taker,
Archivist, Polltaker, Digester, Picture Taker,
Caterer, and in keeping with
current trends, a Webmeister.
Soon into this land of Firth and honey
came dozens more, and we gave them quite
a rib_bing. Their wit and sensitivity
soons wins them places in the Colin-y.
Our Queen tests the worthiness of all subject wanna-be's
,
and it is up to the potential Friend of Firth to find her
email and beg permission to join. May you be found worthy!
Thus spake ZaraFirthstra...
---
Return to main page
c1996 by Carol.
Comments? Send 'em along to meluchie

News & Updates - Colin Firth Bio - ABOUT FIRTHLAND - On-Screen Images - Snappies - Off-Screen Images -

Roles Page Project - Links - Periodicals - Guestbook - E-Mail me