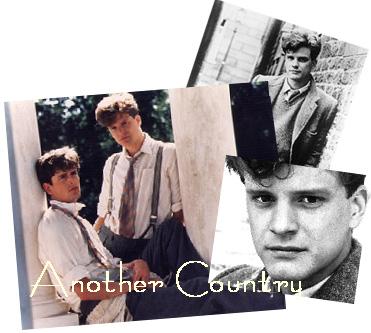 Film Facts
Colin's Character: Tommy Judd
Other Cast: Rupert Everett (Guy Bennett), Cary Elwes (James Harcourt), Anna Massey (Imogen Bennett), Tristan Oliver (Fowler), Frederick Alexander (Menzies), Michael Jenn (Barclay), Rupert Wainwright (Devenish), Adrian Ross Magenty (Wharton), Guy Henry (Head Boy)
Screenplay: Julian Mitchell, based on his own play
Director: Marek Kanievska
Executive Producers: Robert Fox and Julian Seymour Producer: Alan Marshall
Music: Michael Story Hymns Sung by Trinity Boys' Choir
Director of Photography: Peter Biziou Production Designer: Brian Morris
Running Time: 90 minutes. MPAA Rating: PG

PLOT SUMMARY
Another Country is the story of Guy Bennett, an upper-class English boy in his penultimate year at a public school (unnamed, but obviously Eton, whose uniforms are imitated in the film). His dearest ambition is to be elected to the "Gods"--the school's ruling elite--for his final year. He sees this as the crucial first step on the ladder of success that will later lead to the diplomatic service and, ultimately, the ambassadorship to France and a host of national honors.
Bennett's ambition is checked by his refusal to be discreet about his homosexuality. At public schools, a certain amount of homosexual horseplay is accepted as a stage to be endured in an environment devoid of females, but one that is tacitly ignored. Bennett starts out as an irreverent Oscar Wilde type, content to twit the system rather than challenge it. When the prefects sentence him to a beating, he retaliates by threatening to go to the housemaster with the details of all his sexual exploits, including the names of his partners, among whom are some of these very prefects. But when he falls seriously in love with a fellow student, James Harcourt, he is forced to come to terms with his sexuality in a public way. The school's resident heavy, Fowler, a rigid Fascistic-type, intercepts a love note between Bennett and Harcourt and brings Guy before the tribunal of prefects. Bennett could save himself by appealing to the housemaster but this would expose Harcourt to discipline that might include expulsion from school. To protect his beloved, Bennett submits to a caning and loses his chance to become a God.
Bennett's only friend at school is Tommy Judd, a passionate Marxist. The boys are united by their nonconformity, but neither totally understands the other's position. This gives them (or, rather, the author) the chance to expound at length on their cherished subjects. Bennett rails against the hypocrisy of an institution that tolerates discreet homosexuality but punishes any outright manifestation of love; Judd counters with his Marxist critique of the public school system. By the end of the film, we see Bennett beginning to understand Judd's point of view and flirting with the idea of Communism as a way to ensure a better world. Given that we've already seen Bennett comfortably ensconced in a Moscow apartment in the prologue, however, we know how he will decide the issue.
GENERAL COMMENTS
The Film
Another Country starts out as a conventional Merchant/Ivory type of film--the British upper classes loving and suffering in exquisitely cut white flannels. The director, Marek Kanievska, encourages this expectation with lush shots of the English countryside, boys in their cricket whites playing on beautifully manicured lawns, an open-air assembly of top hatted, tail-coated young men. At the same time, he ruthlessly strips away the pretensions of this privileged world to reveal the brutal and essentially feudal nature of the society that spawned it. The rigid hierarchy of the public school, with younger boys forced to endure years of virtual slavery to the older ones in order to qualify for rank and privilege as senior students, is emphasized as a microcosm of the outside world.
Julian Mitchell's main concern, however, is neither the class structure of society nor the promise of Marxism, but in making a plea for the acceptance of homosexuality as a natural condition. When Guy tells Tommy that Martineau, the boy who hanged himself at the beginning of the picture when he was discovered in flagrante delicto with another boy, had told him that he knew from the age of ten that he was gay, Tommy scoffs, saying that you can't know a thing like that at such an early age. Guy retorts, "Are you a Communist because you read Marx? No, you read Marx because you're a Communist." The other efforts at drawing a parallel between the two boys' situations as dreamers of a better world are increasingly strained, especially when one considers that some Communist states have been no more tolerant of homosexuality than capitalist countries.
Another difficulty is the portrayal of Bennett's and Harcourt's romance, which is photographed in the same idyllic terms as the school landscape, all ardent glances, romantic dinners and punting in the moonlight. Since we have seen these images of Eden brutally exposed as nothing but the outward face of a cruel and sordid society, it is difficult to accept the apparently sincere attempt to present the affair as anything but an unattainable dream.
One critic noted that Another Country has "the air, but not the substance, of a tragedy." From the dirgelike anthem, sung by a chorus of young boys, that opens the film, we know that we are looking at a doomed world. The oppressive atmosphere of the 1930s hangs over the action. The privileged class will never have it so good again. One of these boys, we already know, will become a traitor, and we realize that many of the others will die in World War II. The news that Tommy Judd was killed in the Spanish Civil War comes as no shock. However, the pervasive atmosphere of grief is hard to understand. Are Mitchell and Kanievska saying that such an outcome was inevitable, given the conditions existing at the time? Or are they, in the Brideshead Revisited vein, mourning a glamorous, vanished era?
Comments on Colin as Tommy Judd
Tommy Judd is, in one sense, the prototypical Colin Firth character--the upper-class gentleman (see Camille, Dutch Girls, The Secret Garden, Tumbledown, Valmont, Circle of Friends, Pride and Prejudice, The English Patient, My Life So Far, Shakespeare in Love). As much as he likes to play ordinary blokes like Fever Pitch's Paul Ashworth, there is always something aristocratic about his looks, bearing and voice that lead him back to the role of English (or French or Scottish) patrician.
In another way, however, Tommy Judd is an unusual character in the body of Firth's work. Judd's intense commitment to Marxism and his absolute certainty that he has the world figured out are strikingly at odds with the internally divided, tortured souls of later films such as Robert Lawrence, Tom Birkin, Neil Truelove, Alexander Scherbatov, Adrian LeDuc, Joseph Prince, Freddie Page, Fitzwilliam Darcy and Jess Clark.
Colin's scenes are scattered through the film and most of them are with Bennett (Everett), since he acts as Bennett's sounding board. Judd's more human side is shown in his struggle between his leftist principles and his friendship with Bennett over the issue of being a prefect.
Colin plays the role with an assurance that fits the character of Judd. The first shots of Colin in this film are the first film shots we have of him: the film pans to show a courtyard in the school with the boys singing in a memorial service for World War I, and if you look closely, you will see that Colin is decidedly not singing.
In a less serious vein, Colin's loose, almost bushy, long hair style, wire-rimmed glasses (worn in some scenes), and moth-eaten sweater help to define Judd as the leftist intellectual. We even get to see Colin doing laundry and making his bed in one scene as he and Bennett discuss their sexuality, hetero- versus homosexual. As a public school boy, Colin is engaged in several sports: In one scene, Colin is in cricket whites practicing the game, and in yet another, he is punting on the river and talking to Bennett.
TRIVIA


? Colin Firth played the role of Bennett onstage (see below "Stage and Screen"). After playing Tommy in the film, he resumed his stage role as Bennett in the West End.
? Another Country was filmed partly at Cambridge and Oxford Universities and partly at Althorp Hall, Cambridgeshire, Princess Diana's girlhood home. One of the extras was her brother, the present Earl Spencer.
? The film's producers asked permission to shoot at Eton, but were refused.
? Rupert Everett and Colin Firth will appear together again in the film Shakespeare in Love, which is scheduled to be released in North America in December 1998.
?Film Producer Robert Fox is also producer of the film A Month in the Country starring Colin Firth, Kenneth Branagh and his future wife/ex-wife Natasha Richardson
COMMENTS FROM COLIN FIRTH
"Judd's a rebel against the system but he's more open about it than Guy Bennett. Bennett is underhand, he wants to take advantage of the comforts, and that's really his undoing. Judd's more upfront, he's a proselytizer. He could never have been a spy."
Film Comment, March 1985
"I'd never have Judd's strength in terms of allowing himself to become a joke in order to publicise his convictions. The way he sticks by these convictions all the time makes him unique. Most people don't have that kind of courage. They prefer to go along with the crowd. Judd wouldn't turn out to be a spy because he is a prosletiser. By fighting, doing something definite and physical, he takes the opposite course. He's not a victim of ambition. Whereas Bennett wants the comforts and benefits of social status, Judd is nauseated by the hypocrisy of it all.
"I wasn't a Communist [at school], and when I rebelled against those assumptions, it was more as Bennett would have done. I was scruffy, I was cocky and I was trouble, but I didn't go around voicing principles. I wasn't politically aware but that doesn't inhibit my performance. With acting, it's not how like the character you are that counts, but whether you have an instinctive understanding of how he'd behave."
Another Country Press Kit
"I wasn't nearly as concerned about the change of roles as the change in medium. It was not knowing if there was anything specific I should be doing that was so frightening."
Premiere, December 1989
"On stage, you function on adrenalin, but the medium of film is very bizarre. The energy is different because the work is so detailed, so subtle."
Another Country Press Kit
The performances won widespread praise, although a few critics thought the young actors were not quite young enough to be convincing schoolboys.
"There isn't an overblown or a weak performance in this huge cast," said Sheila Benson in the Los Angeles Times; "both Colin Firth and Rupert Everett are superb."
"Firth is outstanding as the token leftist" wrote Rex Reed in the New York Post, "handling a mouthful of Marxist propaganda with vigor and assurance."
In Women's Wear Daily, Howard Kissel agreed: "Colin Firth is very strong as [Judd], whose commitment to Marxism predates the action and is never explained, but which Firth makes credible and imposing."
And George Robinson in Films in Review wrote that "Firth, in particular, is effective at conveying a weary sort of disgust and is, I think, an actor to look for in the future."

Despite some praise for its serious subject and intelligent dialogue, Another Country received generally unfavorable reviews. Many critics were unpersuaded by Mitchell's central argument--that Guy Burgess turned to treason and espionage to take revenge on a society that wouldn't accept his homosexuality. "The pettiness of his motivation is not only incommensurate with the end result," wrote George Robinson in the October 1984 edition of Films in Review, ". . . but does a disservice to the emotions that lead a real life Burgess to work quite hard at treason." And in New York magazine, David Denby observed, "Surely a good many public-school homosexuals must have been double-crossed by friends and even unfairly caned without becoming Soviet agents."
A number of critics mentioned the pervasive claustrophobia of the school setting, but were divided on whether this was inadvertent--a consequence of adapting a stage play to the screen--or deliberately done to emphasize the stifling nature of public schools. Some criticized the "pretty pictorialism" or "Vaselined romanticism" of the cinematography, apparently unaware that it was being used ironically.

Favorite Moments from the Film:
Tommy: I can't do it. I just cannot be a prefect.
Guy: Why not?
Tommy: I do have my reputation, you know.
Guy: What?
Tommy: I'm the school joke, I quite realize that. But I am, don't you think, a respected joke? I do at least stick to my principles. People appreciate that. If I abandon them now, what will they say?
Guy: You don't care what people think.
Tommy: About me personally? No. They'll say it's all a fake.
Guy: No. No.
Tommy: They'll say, "That's what we said all along. It's just a form of showing off."
Guy: On the contrary. They'll see the ends justifying the means. What could be more Communist than that?
Tommy: They'll think it was all a fake. They think all Communists are fake. That's what they say about Stalin.
---------------------------
Devenish: I don't see why you have to be against everything.
Tommy: I'm not. I'm for revolution.
---------------------------


Fowler: If you mean the housemaster, kindly use his proper name.
Tommy: You didn't.
Fowler: What?
Tommy: Use his proper name. His proper name is Mr. Farquharson.
Fowler: Are you trying to be clever or something?
Tommy: I don't have to try. I am clever.
Fowler: I've half a mind to ask Barclay for permission to beat you.
Tommy: Well, you've half a mind, we can all agree on that.


---------------------------
Guy: My God, the man is really cracking up.
Tommy: Liberals always do, under pressure.
Guy: You know, you're a very hard man, Tommy.
Tommy: I've no time for him. He just wants a nice, easy life with a nice, easy conscience, and he's no right to either.
---------------------------
Tommy: You were easily bought.
Devenish: Well, my father was a God himself, and when I told him . . .
Tommy: Ah, yes. And your son will be a God, and your son's son, even unto the end of school.
Barclay: We saved the house from Fowler.
Devenish: We saved your conscience.
Tommy: Oh, yes. All problems solved for life. No Commies and no queers.
----------------------------
Guy: Wouldn't it be wonderful if Communism were really true?
Tommy: It is true.
Guy: What, heaven on earth?
Tommy: Earth on earth. A just earth.
Stage and Screen
Another Country provided Colin Firth with his first two professional jobs. In the spring of 1983, while still a student at the Drama Centre, he made his professional debut in the role of Guy Bennett in the stage version of Another Country. When Rupert Everett (the original stage Bennett) won the role in the film version, he encouraged Firth to audition for the role of Tommy Judd. Colin did and won the part.
[Thumbnail pic of theater program cover, clickable to link to large-size pic. And maybe another of the cast list that I xeroxed and can send to Meluchie or whoever for scanning.]
Extraordinary as it is for any drama student to begin his career by starring in a West End play, Firth's accomplishment is even greater, for after making his professional debut at Bennett, he was able to turn around and play the utterly different character against whom Bennett acts for most of the play.
[Thumbnail pics of CF as Bennett, looking through binoculars with Judd behind him, and a snappy of the equivalent moment in the film, with CF as Judd. Pics should be put up side by side or above/below one another, and should be clickable to reveal a large-size version.]
Photographs from the stage version suggest that Firth emphasized the rebellious aspect of Bennett's character, in contrast to the more romantic and hedonistic interpretation offered by Everett.
After playing Bennett on stage for several months, Firth spent two months playing Tommy Judd. When filming was finished, he went back onstage as Guy.
Julian Mitchell adapted his own play for the screen, making some significant changes. In the play, which has only ten characters, Harcourt is never seen, only talked about by the infatuated Guy. The ending was ambiguous, leaving open the question of Judd's influence on Bennett's politics; the film, with its prologue and epilogue of an elderly Guy in Moscow, makes explicit what the play merely suggested.
The stage version of Another Country provided many young British actors with their first major roles. In addition to Everett and Firth, Daniel Day-Lewis also played Guy Bennett, and Kenneth Branagh won the Society for West End Theater's Most Promising Newcomer award as Tommy Judd.
Other actors who appeared as various other schoolboys in the play who later in appeared in films with Colin Firth include James Wilby (who appears in Dutch Girls), Julian Wadham (The English Patient) and Anthony Calf (Pride and Prejudice).
Critics generally praised the way the play was adapted to film, but some didn't like it:
The finished product is fascinating, not so much because it is a good film--it isn't--but because of what seems to have happened between stage and screen. The rainbow-hued rhetoric of Mitchell's play has done a bunk, leaving behind something leaner and more larval. This defecting-butterfly process has had its auspicious influence, especially in Peter Biziou's doom-and-velvet photography, which out-Caravaggioes The Verdict. But there's also a lost-and-lusterless feeling in the characters now, brooding away in black. And the actors have clearly been encouraged to semi-soliloquize rather than stage-semaphore their dialogue, in the vain and earnest hope that this will be more cinematic.
Film Comment, March 1985
Fact and Fiction:

[JANET/MELUCHIE: Perhaps this quote could be a sidebar instead of part of the main text?] In his book Children of the Sun, Martin Green described two common "types" of post-World War I England—which seem to describe the characters of Bennett and Judd, respectively, as well as the real-life figures on which they werebased:
The rogue-rebel is a type one often finds in conjunction with the dandy-aesthete, even though he is the latter's opposite by ordinary criteria. The rogue is often coarse, rough, brutal, and careless. He is like the dandy, however, in his conscious enjoyment of his own style and in his rebellion against mature and responsible morality. Sexually he is as much the narcissist as the dandy is, but "typically" the rogue is heterosexual and the dandy homosexual. . . . There is an alliance between the dandy-aesthete and the rogue-rebel in a common cause, the cause of defying their fathers' mode of seriousness.
Another Country is a fictional story inspired by the lives of several real people.
"Guy Bennett" is Guy Burgess, diplomat, financial consultant, broadcaster, spy and traitor, a colorful figure in the England of the 1930s and 40s, whose adventures inspired several of Evelyn Waugh's novels. Flamboyantly homosexual even during his schooldays at Eton, he was fond of telling people that his aversion to women stemmed from the experience of having to extricate his mother out from under his father, who, he claimed, had died in the act of copulation. His homosexuality prevented him from being elected to "Pop," the self-elected prefectorial elite, which was a serious disappointment to him. "He was trying very desperately to be one of the group," recalled Christopher Isherwood. At Cambridge University, he finally succeeded. After flirting with the reactionary Pitt Club and the snobbish, predominantly gay Society of Apostles (which has been called "the most influential and elitist network at Cambridge"), he fell in with a group of leftists, among them John Cornford, Donald Maclean and Kim Philby, and joined the Communist Party late in his final year. For most of the next seventeen or eighteen years he spied officially for Britain and covertly for the Soviet Union, finally fleeing to Moscow in 1951 with his cohort Maclean. He died in 1963, shortly after the defection of his other compere, Philby.
Recommended: For an entertaining rather than a political view of Guy Burgess's life as a defector in Russia, see "An Englishman Abroad" starring Alan Bates and directed by John Schlesinger, based on a real-life encounter of the actress Coral Browne with Burgess.
"Tommy Judd" was inspired by the lives of Cornford and Esmond Romilly, a couple of upper-class leftists. Cornford, a grandson of Charles Darwin, was an intensely idealistic and committed Marxist from his days at Stowe School. At Cambridge, he became a leader of the Communist movement, working tirelessly to recruit and organize new members. Handsome and swarthy, with piercing dark eyes, Cornford was the stuff of which heroes are made. He died a martyr's death in the Spanish Civil War the day after his twenty-first birthday. Romilly, a nephew of Winston Churchill, was a rabble-rouser from his days at Wellington, a public school with a strong military orientation. In 1934, when he was 16, he ran away from school and founded a radical magazine called Out of Bounds, which he distributed to other public schools. He refused to go to a university, but fought in the Spanish Civil War, eloped with Jessica Mitford at the age of 17, and moved to the United States. He was shot down over the North Sea in 1941.
[MELUCHIE: Do you think that photos of Burgess, Cornford and Romilly would be a good idea here? I can tell you which books contain good pics of them.]

[Possible sidebar?]
The hidden group and the exclusive club were very much a part of their education and their heritage. From the age of eight, boys were separated from their families and herded into preparatory and public schools, which became a substitute for the family. 'The boys sought among their contemporaries affection which they associated with the school,' Noel Annan wrote of Stowe, 'and reciprocated by giving their hearts to the place.' From the self-electing 'Pop' of gaudy prefects at Eton who ran the college, through the innumerable societies at Oxford and Cambridge, of which the Apostles and the Communist cells were secret ones, through to the London clubs and the Masonic lodges so powerful in the world of business, an Englishman from the privileged classes expected to achieve a male bonding exclusive of others, even of his own peers, certainly of the other sex.
The Red and the Blue: Cambridge, Treason and Intelligence
By Andrew Sinclair


Ratings:
Ratings from the Friends of Firth (10 is the maximum):
8 for film, 9.3 for acting, 9.1 for looks, and 7.8 for rewind.

Web links