Comments about the Film
The film was part of the BBC Performance series, and it was based on a stage production of The Deep Blue Sea at the Almeida Theatre. It has the quality of a filmed stage play. Some of the actors, including Penelope Wilton as Hess, reprised their roles from the stage. However, Colin Firth was not in the stage cast; the role of Freddie had been played by Linus Roache ("Wings of the Dove").
The Role
Colin again plays somewhat of a self-aware cad, judging from the lines in the play themselves. He is aware of his own inability to give Hess the kind of unconditional love that she craves and that he inspires in her. It is almost as if he is trying his best, but is lacking the depth and character to do so.
As an ex-RAF pilot, Colin cuts a dashing figure in his leather bomber jacket, and this is one of the few roles in which he sports a mustache (as do Charles Holroyd and Simon Westward). Colin's role as originally performed on stage has been described as "shiftily charismatic, a jauntily sexy figure, a born lady- killer." Colin does carry over some aspects of the character-but also conveys a troubled side to Freddie. In comparison with some of Colin's other roles, this role seems somewhat a mixture of the self-absorbed qualities of Simon Westward in "Circle of Friends" and the jaunty "hooray Harry" qualities of Geoffrey Clifton in "The English Patient." Freddie is a kind of man-boy.
The Character's Scenes
Colin appears toward the end of the first act and is on stage/screen much of the second act. His third act appearance is his briefest.
Despite the somewhat superficial, self-centered character he plays and that the fact his main function is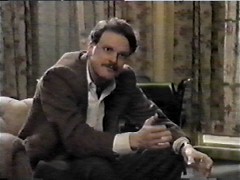 to be the object of Hess's obsessive love, Colin does get to show somewhat of a range of emotions. In the first act, he gets to show one of his best "oh I can't believe I forgot," banging hands to his face and lowering them almost in prayer, when he remembers that he forgot Hess's birthday. This is shortly followed by a scene where he has to charm Hess ("Give us a shot of those gorgeous brown orbs").
In the second act, he gets to show anger-through much of his conversation with his friend Jackie (as he bemoans the situation he is in, inspiring suicidal love) and even toward Hess, who is "mothering" him. Colin is petulant and on edge through much of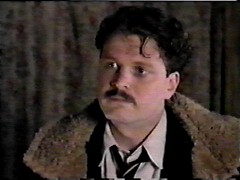 the act--even a bit drunk in parts. As mentioned, Colin is "on stage" for much of the second act, which begins with the long scene where he is explaining his relationship with Hess to his friend, Jackie Jackson-his desire to marry her, their rows. He gives his credo as a superficial lover, basically justifying himself as giving all he can ("Hell, it's not as if I'm not in love with her too, of course, I am. Have been and always will. But-well-moderation in all things has always been my motto."). And he gets to be angry with Jackie when Jackie doesn't seem to understand him-or just because Jackie has a normal life with his wife.
And this act has perhaps Colin's cruelest lines in any of his films, where he asks for a shilling and tells Hess to use it for the gas the next time he's late for dinner. The second acts ends with Freddie telling Hess of his intention of going to South America without her; in this scene, Colin has to appear as if reciting a speech-but gets angry as he shouts "We're death to each other" as Hess totally breaks down emotionally.
In the last act, Colin's role is limited to the scene where he comes to pick up his things and would obviously be persuaded to stay if Hess said the word. This is some of Colin's best acting for me in this play-he manages to suggest that Freddie wants to come back, doing so with his eyes mostly, but also body language-it's not that evident from the lines themselves what Freddie wants and is feeling. Colin's expressions also show his sadness at ending the relationship with Hess-revealing some genuine emotion for a cad.
Looks: Check out the last scene, where Colin-with his hair a bit disheveled and one lock falling over his forehead-in that bomber jacket. I think that this is the best-looking moment of all of Colin's cads.
Other: Check out the "most domestic" scenes that this play has-drying dishes and plopping off his shoes.
Mannerisms: The use of the hand to the head is one mannerism that occurs several times (there's one movement that's just like Stephen Whalby talking to Manciple about Lyn's affair). And in the last scene, when we are supposed to figure out that Freddie is very emotional and might go back to Hess, he clears his throat (a standard CFism-think of the Pemberley meeting scene, for example).
See Favorite Scenes for more of an explanation of key scenes.